Stainless steel cladding is required behind the cooking suite and walls experiencing extreme heat.
Some restaurant chains like Wagamama's have Stainless Steel wall cladding throughout the kitchen and front of house. We also clad front counters and bars in Stainless Steel.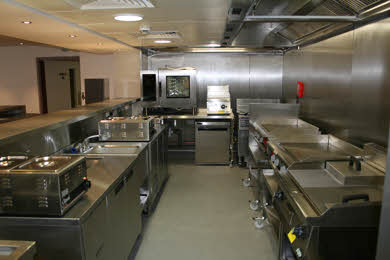 Stainless Steel Cladding is easy cleaned and can give the very modern, hygienic look.
Is also robust being used for wall bumpers and pillars where a high density of trolleys and traffic may pass.
Purchased in various thickness or sizes we can cut and fit for the individual needs.
METHOD STATEMENT - STAINLESS STEEL
All works to be carried out by trained installers.
Fit Stainless Steel cladding with approved adhesive as manufacturers instructions.
Stainless Steel cladding to be adhered with a required adhesive to depend on surface.
Stainless steel panels to be joined with a Stainless Steel "H" trim in stainless steel.
All stainless steel work to be carried out with 2 operatives at all times.
All operatives to wear full PPE .